Manage all Purchase Orders from the Office.
Now you have the ability to create purchase orders from field material requests made by your field personnel, or new purchase orders from the office.
WATCH TOUR BELOW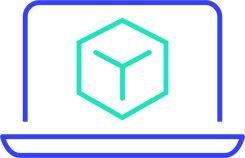 Purchase Order Processing
Upon receiving the material requests, your purchasing team gains real-time insight into which materials are needed on each and every project while being able to effectively source materials with the best available pricing from your supply chain.
Creating a PO has never been easier or more efficient. Issue your Purchase order and provide details to the job site so receiving is effortless and auditable.
Send your Material List Directly to a Vendor
The Admin level Vendors menu helps you to maintain individual vendor material lists.
Export your stored list and send it directly to a vendor so they can review and provide you with updated data ensuring accurate pricing throughout your project.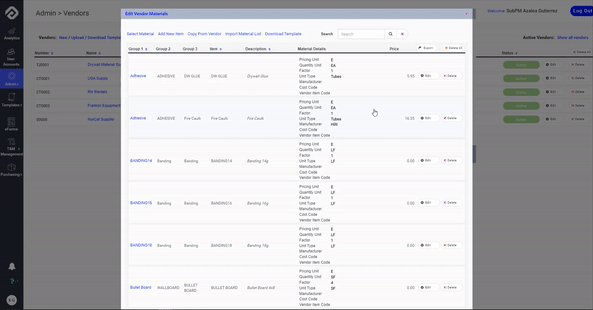 Open a New Purchase Order
Use the Create PO Button to open a new Order. Add or edit vendor details, terms, and any notes specific to the current order to help ensure your order is processed quickly.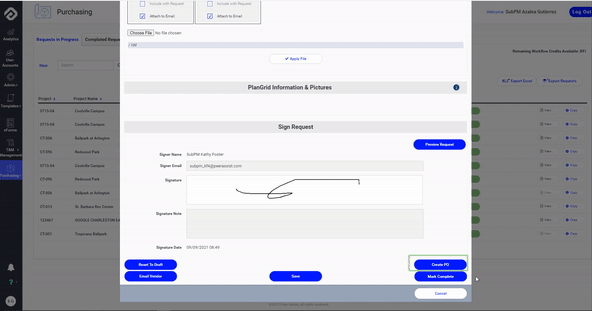 Add Material
Start with an FMR or Add material from a vendor or project-specific list or from your company master list or any combination of these sources.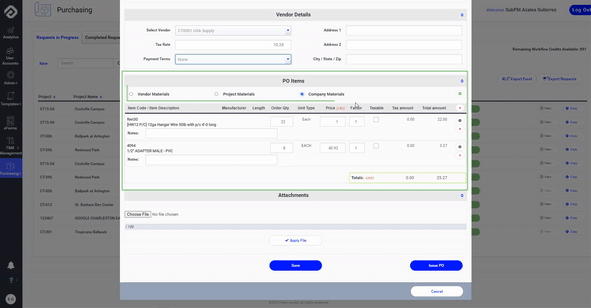 Send your Purchase Order
Send out your PO with or without attached pricing to your vendor and internal team contacts. You can view your PO at any time.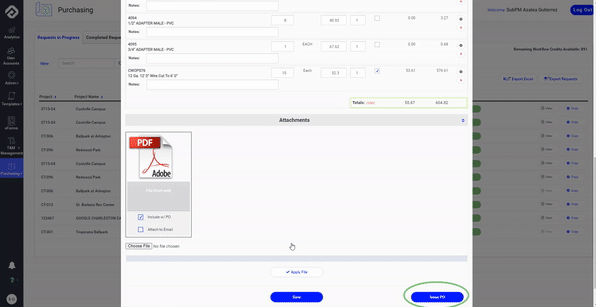 Freemium
Designed to provide a chance for you to try the tool. Your account will be set up with credits added to your account. No expiration, no pressure, just you getting a chance to see it in action.
Credits
This model allows you to pay for only what your team uses. We don't want our customers paying for a software subscription they aren't using. Our approach allows flexibility for the power user or those that only need to access the software occasionally.
Unlimited
Unlimited allows for full use of the platform for as many users as you can throw at it (your staff that is). No worrying about buying credits, just get in and go! Chat with a product team member using the chat to learn more.
Ready to See the Demo Videos?
Yep. No haggling sales process. Watch on your terms.