Accident Report
Track all sorts of safety forms, violations, etc. with a powerful tool that's handy on your mobile device. Unfortunately you can't predict accidents, but you can be prepared to capture information you need.
Documenting Accidents is as Easy as 1-2-3.
Contractors know all too well that accidents will occur on projects. Great strides have been made in the construction industry for raising awareness. Unfortunately, the process is messy and risky when accidents are not reported in a timely and well-communicated manner.
Accident Reports
Use our Accident Report or customize it to make it your own. Capture all the information needed right from your mobile device and be ready when accidents arise.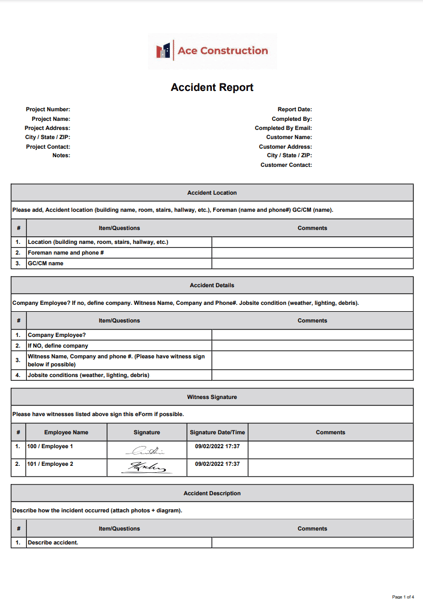 Accident Report Acknowledgement
eSignatures provide a great way to ensure you have captured an accurate sequence of events and whether the documentation gathered is an accurate depiction of what happened. This provides incredible value to your team to ensure you collect everything that's needed.