RFIs
Get the information you need fast and easy, hold teams accountable, and keep your projects moving smoothly.
Your RFI Form. Your Way!
Project team members can communicate questions and issues with the home office in a real-time environment. Include photo backup and set any required information, like sheet or detail numbers. The office can review and download a PDF for internal record-keeping, or to share with the GC/Owner (or edit as needed). Projects run smoother when the field and office are on the same page. Work and collaborate on the same platform.
Fully Configurable
Gone are the days of having to conform to the way the RFI software works. PeerAssist allows you to use your RFI Form Templates the way y0u want and with everything you need to track this important construction document. Use our RFI Form from the library or customize it to make it your own.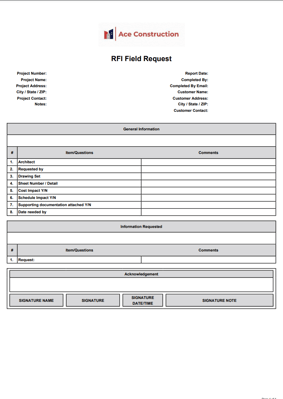 Complete Visibility
View all your RFIs in an auto generated RFI Log to keep your team on track and aware of where each RFI is at in your process.